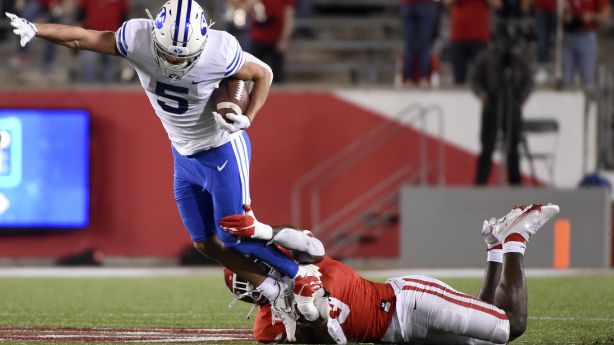 SALT LAKE CITY – Dax Milne caught nine 184-yard passes and three touchdowns. For the third time in four games, the junior wide receiver overshadowed the 100-yard reception mark.
None was bigger, perhaps from the last touch.
Milne's third touchdown, 18-centimeter roommate Zach Wilson, who stayed in the fourth quarter for 3:05, helped № 14 BYU defend Houston, 43-26, on Friday night at TDECU Stadium in Houston, Texas.
Wilson made 25-of-35 passes of 400 yards and four touchdowns, and ran for the team 40 yards on nine rushes. Tyler Olgeyer ran for 25 yards and a touchdown, and Lopini Katoa added another score to the Pumas, which for the first time since 2008 improved to 5-0.
Faced with the protection of BYU, which lacks two upper nasal solutions in Hiris Tonga (illness) and Lorenzo Fauatea (leg injury ending the season), Houston has accumulated 438 yards offense – including 310 yards and two landings from the defender Clayton Tune's Cougar.
"I feel like the statement we made was that we're a great team," Wilson said. "The middle teams are inconsistent and can't finish matches. But there was no moment. Every game, every occasion, we knew we could do the next thing. The boys had the same mentality, even when trouble came.
"I'm so proud of these guys for fighting."
Wilson, whose 400 yards is the highest level of his career, threw at least two landing passes in five straight games, corresponding to the longest such BYU series since Christian Stewart in 2014, according to ESPN statistics and information. He also designed the offense to score 40 or more points in the first four five games of "Pum" – a feat not seen in Provo since 2001.
In addition to Stewart, he compares with former BYU quarterbacks – the crazy attitude of Steve Young, the charisma of Jim McMahon and the leadership of Robbie Bosco. But on Saturday night, he brought BYU to the best start in Max Hall's time – and that's probably the comparison he'd appreciate the most. Because it's about victory, and so is Wilson.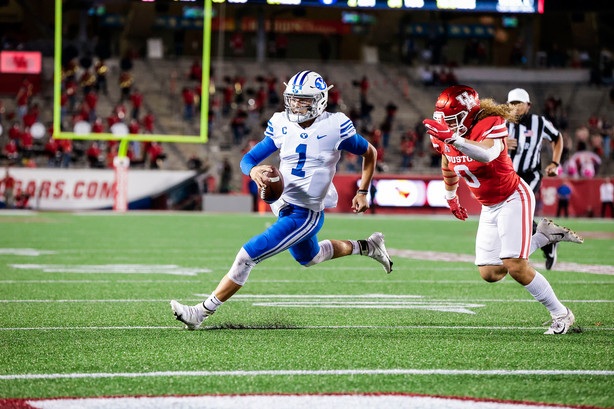 It also didn't take him long to find his favorite target – just one game, 19 seconds and 78 yards, before putting 7 points on the board through Milne. The former prominent "Bingham High" repulsed the defender, caught Wilson's career on the near side line behind him and advanced in an intact position to the end zone, leading 7-3.
"This dude is a playmaker," Wilson said of Milne. "I love this guy. He's one of my best friends, I'm so happy for him. … I believed in this guy from day one. I always knew he would be a great player for us."
If it looked like a play they'd repeatedly practiced on a playground or a playground, it might be because they've been doing it since they grew up in the same southern corner of the Salt Lake Valley.
However, there is much more.
"Just like he's grown so far, I think he's still getting stronger and stronger," Milne said. "It's fun to be a part of."
Wilson completed his first three assists of 128 yards and then dived for 4 yards, allowing Katoa to make a submerged shot from the goal line at 14-3, which BYU took out of the first quarter. Gunner Romney was prevented and then completely abandoned the game with a hamstring injury, making only one catch, so Wilson had to rely on his boyfriend No. 1 in many situations.
No problem.
"These guys have known each other since childhood," said BYU coach Kalani Sitake. "I think they're just used to being around each other … You see, they have a connection and a rhythm with each other."
Tune pulled out his cards in the second quarter, making 12 of 13 assists – including eight in a row on one drive – for the touchdowns that returned Houston, 17-14, from 4:42 to go in half.
After falling behind by 11 earlier, Houston overtook the away Cougar, 323-233, in the first half to gain a 20-14 advantage at the break. The tune made 15-of-18 assists of 234 yards and two first-half goals for the Puma hosts.
He limited the 16-game, 98-yard drive to 6:48 with a 5-yard fast landing. Despite the fact that George Udo intercepted a 2-point pass, the obstacle was caused – not just in the score 26-14, but almost half of the third quarter.
Wilson limited himself to a pentagonal 75-yard drive with a 2-yard landing to Milne in 53 seconds. On the next touch, Shitake gambled – and Lone Peak product Talmage Gunther made a wide-open recovery to provide another excuse for the offense.
The Cougars scored on that occasion, but Houston returned the ball with a tail and a 23-yard field, resulting in Wilson's 8-yard pass to Massen Wake (and a 2-point conversion by Alleyer) to regain the lead 26, 10 minutes left.
The Cougars never lagged behind, scoring the final 29 points in a game with Milne's third touchdown and Alger's 18-yard assault on the final zone, with just under two minutes left.
"He felt great," Milne said. "I think Houston thought we were going to play it safe, run the ball and try the field goal. So when I heard the call to play, I was very excited; I knew it was a touchdown, and I just needed to do it. just very happy and Zack did his job and we could drive a nail into the coffin. "
The result of counting points
The first quarter
9:53 – HOU: Field goal "Witherspoon 27"
9:34 – BY: Dax Milne, 78 passes from Zach Wilson (Oldroyd's shot)
4:42 – BYU: Lopini Katoa 1 run (Oldroyd's shot)
The second quarter
9:01 – HOU: Christian Trahan, 20 passes from Clayton Thun (Witherspoon strike)
4:42 – HOU: Nathaniel Dell, 5 passes from Thun (Witherspoon shot)
0:00 – HOU: Witherspoon 49 field goal
First half – Houston 20, BYU 14
The third quarter
3:05 – HOU: Setting up 5 startup (skip failed)
0:56 – BYune: Milne, 2 yards from Wilson (Oldroyd's shot)
The fourth quarter
10:35 – BYU: Masen Wake, 8 passes from Wilson (pass Allgeier)
03:06 – BYu: Milne, 18 passes from Wilson (Oldroyd's shot)
01:40 – BYU: Tyler Olgeyer, 14th run (Oldroyd's shot)
Final – BYU 43, Houston 26
×
Photos
Related links
More stories that may interest you
Source link